Print at home!
Are you a fan of the kitchen table? Print booster packs at home with our Pack Generator, or build the decks how you want with our PDFs for home printing. Print, cut them out, and slide them in front of a sleeved card before challenging your best friend to a Star Wars showdown.
Download the Pack Generator and PDFs!
Play Online!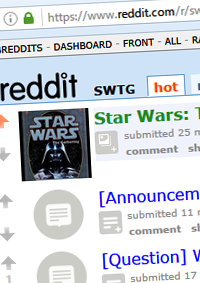 Join us at the subreddit /r/swtg! There you can find a free digital download of the set to play with other Star Wars fans online.

Visit /r/swtg to talk strategy, find players, and stay in the loop on updates such as the new Rebels expansion!
Professional Printing
The best way to play! When you want your cards to look and feel like real Magic cards. We created higher resolution images made with bleed edges for professional factory 300-dpi printing.
You can order a printing of the SWTG draft cube here!
For printing at a different printer instead of the link above, you can download the files below:
Expansions:
Base Set: